Funded 2 year olds
Now that our new building is finished we are able to offer Funded 2 year old places at Beech Green Nursery. If you are interested in a Funded 2 year old place for your child, please read the information about eligibility and how to access this funding. If you have any questions, please contact us and we will be able to help you.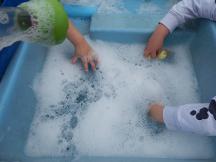 Early Years Pupil Premium (EYPP)
From April 2015 settings can claim extra funding to support children's development, learning and care. National data and research tells us that children eligible for free school meals tend to do less well. In 2014 45% of children eligible for free school meals achieved the expected level at the end of the early years foundation stage, compared with 64% of other children. The EYPP provides us with extra funding to close this gap.